Queers 4 Nature Earth Week Event
Clean Up and Clothing Swap!
Saturday, April 27, 2019 at 8:30 AM – 3 PM
Brought to you by Guelph Pride, Out on the Shelf, ARCH, and Shaggy Moss!

Come and join us for a city-wide clean-up initiative as we put together our own fabulous team! We'll be joining up with the Clean and Green crew to clean-up a park of our own. Come out and clean up the earth for a day, and meet some wonderful new friends from the community while giving back!

Then we'll pop over to Out on the Shelf for a FREE LGBT2QI+ clothing swap from 1-3pm!
​Donations welcome, get in touch at education@archguelph.ca if you have any questions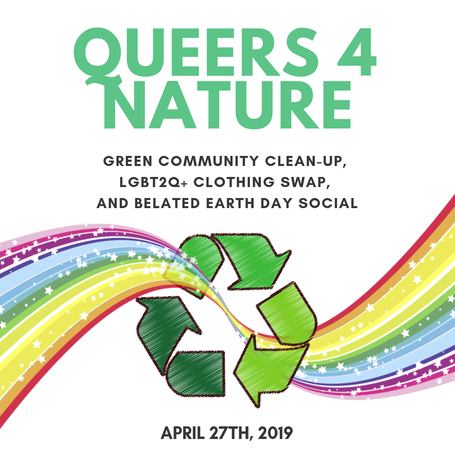 QUEERIES FESTIVAL
QUEER & TRANS | ARTS & MUSIC
A new LGBT2QI+ arts & music festival
Honouring those who started the fight for queer liberation
Uplifting those with something to say in our communities
Creating a space of healing & celebration for those doing the work
For those with questions / for those with answers
2019 LINE-UP JUST ANNOUNCED >>>>>
Lgbt2qi+ community award
nominations are open!
Introducing our first ever Guelph LGBT2QI+ Community Awards!
There are so many incredible people doing really great work for our communities here in Guelph - let's do our part to recognize and thank them for all they do!
We have five different award categories. Make sure whoever you nominate has consented to being nominated - we're not here to "out" anyone! You can nominate individuals for
one or all of the awards, but you can only nominate one individual!
​
Winners will be decided through a combination of a blind panel of community members as well as by popular vote!

Thank a queer today - get your nominations in by April 20th!

have something to tell us?
We would love to hear your feedback! When our communities let us know how they're feeling, what they'd like to see more/less or, or the ways that they would get involved - it allows us to grow and better serve our LGBT2QI+ communities! And that's what we're about!

Feel free to fill out our anonmyous feedback survey below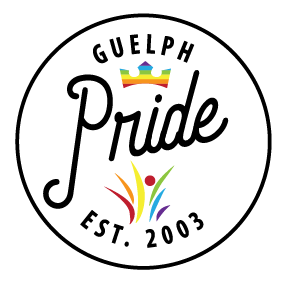 ---

our love keeps growing

This year, Guelph Pride is going through a growth spurt! After celebrating our 15th anniversary in 2018, the 

Guelph Pride Planning Committee is starting to recruit for the 2019 festival season - and we want to make it our biggest, best, and most diverse pride Guelph has ever seen! If you are looking to get involved you can email

volunteer@guelphpride.com

or reach out to us on

Facebook

,

Instagram

, or

Twitter

! We're looking forward to celebrating our Pride in 2019!

contact us

Odesia
Social Media Coordinator

Taras
​Art Show Chair

Riley
​Finance Coordinator

Jesse
Out on the Shelf Chair

CJ
OOTS Marketing Support

Bella
QTPOC Events Coordinators​

Lola and Finn
Youth Events Coordinators

Stevie
Families & Kids Events Coordinators

​Finn
Trans Events Coordinators

​Mel, Sheila, B.W., Caitlynn, Graham, and Caitlin
2019 Committee Members​

---

Please Donate Today

Without your support we can't do everything we do! Please note the direction of your gift to Guelph Pride through the Out on the Shelf donation page. Much love!


---

---
CHECK OUT OUR 2018 GUELPH PRIDE REPORT